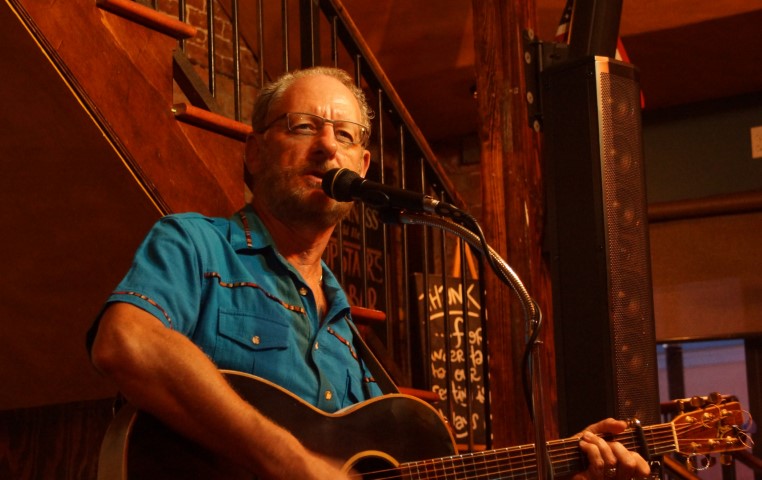 "Nolan has used his broad knowledge of traditional Irish songs, as well as other kinds of music, to develop into a very fine songwriter whose work is steeped in the traditions that he's mastered." -- Mike Regenstreif, Sing Out! Magazine
About Brendan
Brendan Nolan is a true Dubliner. He grew up in Ireland at a time when there was a resurgence of interest in Irish music and when the singer-songwriter boom had taken off in North America. Both of these genres would ultimately influence his own music.
After starting out in the vibrant Dublin Ballad scene, he moved to Canada in 1979. He made his mark in Montreal where he was the "House Performer" for a 14 year run at the Old Dublin Pub. It was voted most popular pub in the city by the Montreal Mirror. While in Canada he headlined concerts at acoustic venues and performed at festivals that included the Winnipeg, London Home County, Miramichi, and Lunenburg Folk Harbour Fest. Quebec holds a special place in his heart as demonstrated through some of his songs.
Brendan's song-writing skills denote a deep sensitivity. He has a gift for story telling. One of his songs, "North of the Rio Grande" was published in a school textbook in Norway. Another, "Far from their Home", is in the National Archives of Ireland and Ntl. Library of Canada. It tells a harrowing story about Grosse Isle, an island burial ground in the St. Lawrence River near Quebec City for victims of the Irish Famine. The song was published in Sing Out! magazine.
Brendan is based in St. Pete Beach, Florida where he has lived since 1993. He has been featured several times on WMNF "Live" in Tampa. He has played at many festivals in Florida, among them, the Sertoma Ranch Celtic Festival, Florida Folk Festival, Gamble Rogers Fest, and Wings and Strings. He has been a headliner on three occasions at the North Texas Irish Festival and also played the Milwaukee Irish Festival, Jackson Mississippi Celtic Fest, Savannah, and Kansas City, among others.
Brendan has eight albums to his credit. The latest recording "Live at the Side Door", recorded at the Palladium in St. Petersburg Florida in April 2013, is a double CD. It also features the excellent Colin Farrell on fiddle and whistles. The songs range from the dramatic to the comical. His sense of humor comes through in his composition 'The Butcher of Killarney Street', a song about a boyhood visit to the dentist. Brendan also performs some songs in Gaelic.
One of his studio albums, "Where Do I Go From Here" was very well received by audiences and critics alike. The CD was mostly a showcase of original work. Stand-out songs include the title track 'Where Do I Go From Here' and 'Old Ned', a story about the last milk-cart in Dublin city. "Across The Great Divide." is mainly a concept album on Emigration. Other recordings include "Song Brook", "Familiar Brew", "Tempus Fugitive", "Southern Sunset" and " Last Night".
Brendan's interest in history as well as his musical talent makes him a perfect host for Tours to his Native Ireland. His most recent tour took place in October of 2015. More information is available through his website at brendannolan.com.
See a list of places where Brendan has played.
What the Critics Say
"Nolan has been blessed with a rich Irish voice and an Irish way with words. In his singing and his musical arrangements he helps his listeners to feel the pain, the joy, the humour, the triumph, the sadness, the longing, as deeply as did the old songs of the tradition."
-- Ron Duffy, Canadian Folk Music Bulletin, Calgary, Alberta, Canada. (Complete article)
"Brendan's songwriting abilities are equal to any of today's contemporary writers. They all leave a mark upon your life."
-- William Ramoutar, Irish Ways program, WFCF Radio, Florida.
"Excellent!! It shouldn't amaze me that those who do their traditional home work always create the best songs, that tell stories and have music that matches the song."
-- Tor Jonassen, WRDV FM Radio, Delaware Valley.
"Brendan Nolan, an Irish emigrant, can't be chastised for singing only well-known songs. Nolan's original songs are a highlight of this album for me ... A sweet and powerful voice."
-- Steve Winick, Dirty Linen Magazine, Baltimore, Maryland
(Complete article)
"Brendan Nolan is an exceptional musician who provides musical entertainment of the highest calibre."
-- Garth Wilton, The Irish Times, Dublin, Ireland
"This is the bard at one with his music, far removed from the din of determined drinkers."
-- Mo Elnuaimy, Hour Magazine, Montreal, Canada.
(Complete article)
"Nolan's poignant story-telling songs are expressed through traditional Celtic/Irish stylings, but Nolan can be considered a contemporary artist using old tools."
-- Anthony Starez, St. Petersburg Times, St. Petersburg, Florida.
(Complete article)
"His accompaniment, whether on guitar or bodhrán, was never intrusive but helped to set the mood needed by each song and along with his straight-forward and unpretentious musical delivery left the audience in a mellow and satisfied frame of mind."
-- Gary Muir, The Expositor, Brantford, Ontario, Canada.
(Complete article)
"The songs will touch all who have left their country to try and find a better life somewhere else."
-- Kelly Wilton, The Montreal Downtowner, Montreal, Canada.
(Complete article)